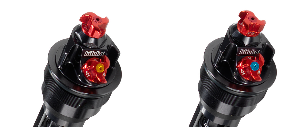 Bitubo are at the forefront of front end performance, always driven by the need to improve and win even more races.
Their mid-range JBH kits are excellent, and increasing sales are recognising their real value for money.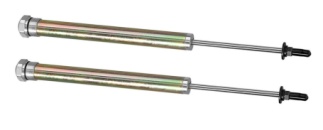 A number of Moto Guzzi's were fitted with Bitubo cartridges from new. The ABA range is the updated replacement for these Guzzi cartridges, covering V35 1977-1987; V50 1977-1984; V65 1982-1988; LM I/II/III 1975-84; California T3 850 1979-1985; California 1000 Mk II 1981-87; and V1000 1975-1984.
The kits comprise two nitrogen pressurised cartridges and fitting instructions.
A fast replacement of the original cartridges, they improve the legendary stability and handling of your Moto Guzzi.
Price £215/kit delivered.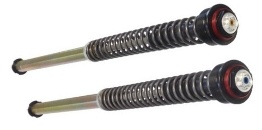 Bitubo JBH fork cartridges are a performance upgrade available for around 50 models of sports bikes. They have separate cartridges (damper plus linear spring) for each fork leg, with one leg having 12 clicks of rebound damping adjustment plus 5mm of added preload, while the other leg has 12 clicks of compression damping adjustment and a further 5mm of added preload.
Price from £540/kit delivered.

Bitubo's race developed ECH29 fork cartridges feature their most advanced technological innovations. Their Full Pressure System (FPS) provides immediate fork oscillation damping and prevents fluid cavitation, via low pressurisation gas and double-ended reservoirs.
Featuring special light Ergal alloys for minimum weight, they are asymmetrical with 24-clicks of rebound damping plus preload in one fork leg and 24-clicks of compression damping plus preload adjustment in the other.
Also features special easy-changer system which allows spring or damper changes without removing the forks.
Available for more than 80 bike models, and no modification of the original forks is needed.
Price £1190/set delivered.