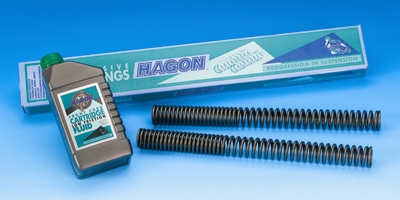 A very wide range of progressive fork springs to match Hagon's range of shocks.
Sold complete with fitting instructions and spacers if required.
Can optionally be supplied with Hagon's own fork oil.
Price £125/pr delivered; or £140/pr with a litre of fork oil.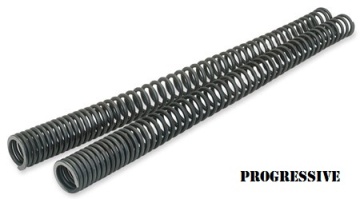 These are the 'Original' progressive rate fork springs, with a lifetime warranty from Progressive.
Some applications are offered in Heavy Duty and Standard Versions.
Sold complete with fitting instructions and spacers if required.
Prices are from £102/pr delivered.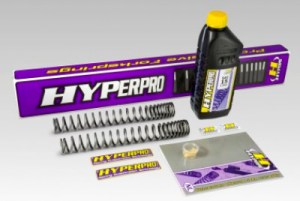 Hyperpro progressive fork springs are made of top quality steel, optimally heat treated to retain their rated strength. Compared with standard springs Hyperpro claim easier cornering, a shorter braking distance, improved tyre life, a better balance in the bike and better overall feedback of your bike.
The springs come with the correct oil for your bike, plus the most comprehensive installation and set-up instructions of any of the fork spring manufacturers.
All springs are KBA/TUV/GTU approved
The price is a bit more expensive at (from) £133/pair delivered.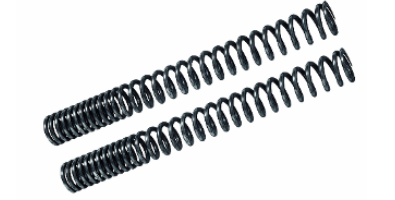 In line with their race-driven philosophy, Bitubo sell several ranges of fork upgrade kits including both linear and progressive springs for scooters as well as a wide range of bikes.
Bitubo fork springs are manufactured in Cr-Si alloy steel, via heat treatment, a stabilizing procedure and final shot-basting with steel balls, thus ensuring very high performance for a long time.
Price from £128/pair delivered including fitting instructions and Bitubo's recommended oil.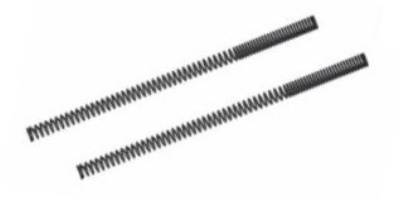 Ikons have expanded their range of fork springs and now cater for around 800 bike models.
Matching Ikon's reputation for very progressive shock springs, it makes sense to opt for Ikon fork springs when you fit their shocks.
Price is from £130/pair delivered.