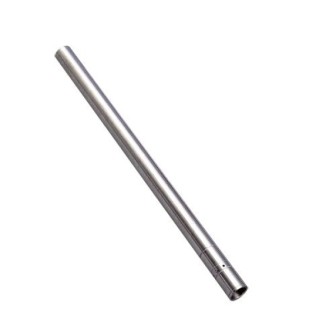 TNK is justifiably the best known manufacturer of aftermarket fork tubes,
having specialised in their production for more than 20 years. Their range
covers 1000's of bike models and they send loads of tubes around the world
from their factory in Italy.
CNC designed and manufactured, TNK tubes are a direct replacement for OEM tubes.
Available singly in nickel-chrome. Price from £ 129.50 delivered.
Promoto have a large range of replacement fork tubes, covering more than 500 bikes.
Made in Germany their quality matches or in many cases exceeds OEM fork quality.
All models are made in chrome, but for some bikes there are options of Titanium-Nitride finishing,
which hardens the outer surface, and carbon finish.
Tubes are sold individually, prices are £179 for a chromed leg, £265 for titanium-nitriding, or £309 for a carbon finish.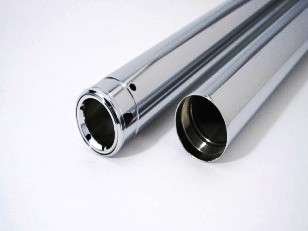 Custom Cycle Engineering, based in California since 1967, boast that they have fork tubes to fit every Harley made since 1949.
They manufacture tubes in four finishes: hard chrome, show chrome, black chrome and gold; and all are sold in pairs.
Hard chrome tubes have their surfaces electrolyzed to give a harder-wearing surface which is also slightly smoother, reducing drag as they slide. The downside is they are not as shiny. Price from £419/pair.
Show chrome tubes are highly polished to give the shiniest finish. Price from £265/pair.
Black chrome DLC (Diamond-Like Coating) is a low friction, corrosion resistant & an extremely hard finish. Price from £457/pair.
For the gold or TNC (Titanium Nitride Coated) tubes, TNC is an extremely hard ceramic material that reduces friction & is wear resistant. Price from £457/pair.