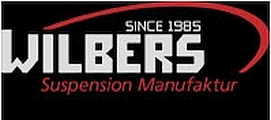 German company Wilbers are one of the largest shock manufacturers in the world despite making only very high quality (and therefore not cheap) shocks. They are also one of the few manufacturers who extend their warranty beyond 2 years - Wilbers shocks are warranted for 5 years, although you need to have them serviced after 2 years to activate the extended period.
The Wilbers twinshock range is quite varied, and for race bikes has various options. The 632 and 633 series twinshocks are the mainstream options, but for some bikes there are other options including different reservoir configurations. The 632/633 shocks all have 36mm pistons, but there are 640 series race shocks with bigger 46mm pistons at around £1400/pair. Then there's the 632 series which are piggyback shocks and add compression damping adjustability. Plus for track day use we'd recommend the 633 series, which allow separate high-speed and low-speed compression damping adjustment
There are various bike-specific configurations in the 642/643 series for monoshock bikes, with prices ranging from £767 to around £900.
All shocks have true variable rated springs rather than simple progressives, which helps to optimise performance under variable road conditions. And uniquely you can specify the spring colour. Standard options are Blue Line, which have blue springs and red/blue coloured adjusters or Black Line which have black springs and silver adjusters. But for an extra charge you can select almost any colour, and there's a handy page on Wilber's website which shows how the many available colour options will look. See it at http://www.wilbers.de/ral.php.
All Wilbers shocks have continuously variable preload adjustment and self-aligning bearings.
Wilbers build their shocks to order in Germany, to suit rider weight and riding style, and all are of course fully rebuildable. Expect around 3 weeks from the day the of order to delivery.