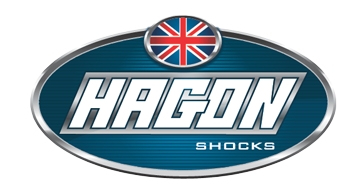 Hagon road shocks are made in the UK to suit most twinshock bikes - probably the widest range in the world. For bigger bikes, their top-of-range NITROs are excellent shocks. These are lovely chunky units with both dampers and springs made from stainless steel. Top cap, bottom mount /adjuster and preload adj rings are aluminium, hard anodised in either black or silver.
They're not very suitable for off-road use as travel is limited to 80mm, and the bottom adjuster can become clogged with mud. Also, they are only available with ring-type lower mountings, not fork-type. All springs are the same length. Shorter dampers(290mm-310mm) don't have a top cap; longer dampers simply extend the top section of the damper above the spring, and are capped.
Dampers are built to a modern shim-stack design for tight damping control, and must be mounted with the 10-click damping adjuster at the bottom. Sizes available 290mm - 400mm in 10mm steps. Stainless steel springs (18,20,23,26,30,35 kg-cm)are all straight-cut and a meaty 73mm o.d. Thick 18mm hard chrome rods and 38mm pistons give greater control, and more resistance so that Nitros normally take springs that are one step softer than standard. Black springs are an option, though currently at extra cost.
And Nitros are now available as Piggyback shocks, with either black or stainless steel reservoirs and choice of springs to match. Apart from the chunky style, the separate piggyback reservoirs offer improved performance: with an increased volume of oil and greater shock body area, these units will stay cooler and so maintain performance when pushed hard.
Well priced and very popular, Nitros are built to order so there is no extra charge for non standard lengths or springs. All made in the UK, all come with the correct bushes to fit straight on to your bike, fully rebuildable and have a 2-year unlimited mileage warranty.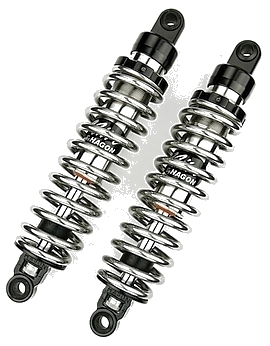 Hagon Nitro's with 10-click damping
and fully variable preload adjustment.
Built to order to suit your weight.
£469/pr with chrome springs.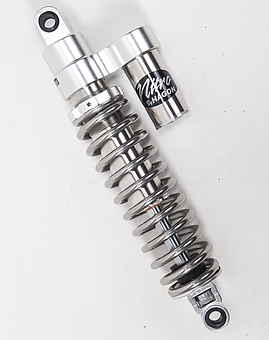 Hagon's top of the range shocks,
Nitro's with piggyback reservoirs.
Black or stainless steel.
£659 - 670.50/pr.