Monoshocks For Motorcycles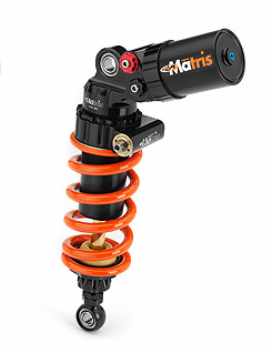 Generally monoshocks are not cheap! There are a few popular older bikes covered in the cheaper Betor range, but mainly if you don't want to spend too much, you'll still need to bite the bullet and fork out the best part of £300 for a Hagon or a YSS shock. Most monoshocks are built with a single damping adjuster as well as preload adjustment, so you're getting a better shock than the original. The more expensive models have separate rebound and compression damping adjusters, and in some cases separate high- and low-speed compression damping adjusters. These shocks will allow you (at a price, and with some time and effort to set them up!) to maximise handling and roadholding. We suggest that you only go for these shocks if you're ready to invest considerable time in getting the set-up right for you: badly adjusted shocks can give a worse ride than cheaper shocks with less adjustment possibilities....
Either way, we can supply a wide range and we'll find the best value option for you: Click on a brand below to get details.
We aim to have the most competitive prices around for all our shocks, so if you can find a better deal elsewhere please give us a call. The price shown is the price you pay, including vat and delivery to most areas of mainland UK.
PHONE US ON 02033 020390 OR EMAIL US AT SALES@BIKEREVIVAL.CO.UK FOR YOUR APPLICATION